If you have a project that is already underway that you need to log into Knowify, you can enter labor and material cost to date, as well as the contract value and invoices to date to get accurate reporting. 
First, you'll need to add a new job. If the job is in QuickBooks as a sub-customer, you can pull it into Knowify as a job as well.
Tip
We recommend you use the Simple style of job costing when logging a job in progress.
First, enter the contract value, either by each line item or just as a single contract sum: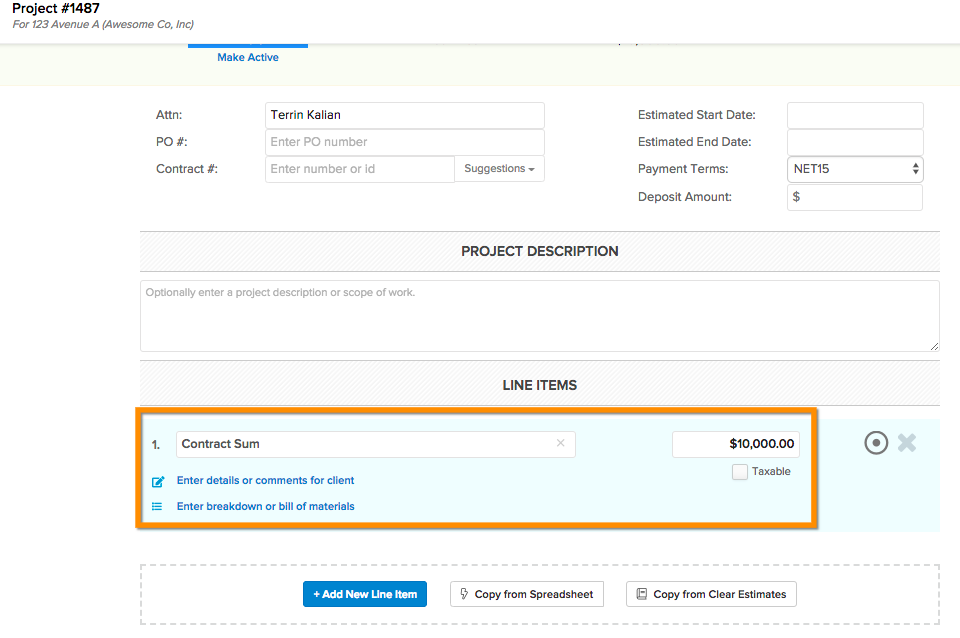 Once the contract value is in the system, create an invoice for the value billed to the customer to date. You can enter an exact dollar figure by choosing Method 4 to enter how much has been invoiced so far:
Warning
If you're using QuickBooks and it's already been logged in your QuickBooks account, after finalizing the invoice be sure to uncheck the "Send to QuickBooks" box to avoid creating a duplicate.
Once you've logged the invoices to date, you can enter the material cost by using a catalog allocation. Do this by going to your Catalog Module and clicking Allocate Materials.  
This is where you can add the material cost to date to the job:
Tip
It's helpful to add a product to your catalog first called "Materials to Date" so you can tell which part of the material cost was entered like this.
Once submitted, this will update your material cost of the job.
To enter the labor cost of the job, enter a 1 hour time entry for any employee, and adjust the cost in Review Time to be the total labor cost to date:
Once the edit is saved, you'll have an up to date profitability analysis on the job: